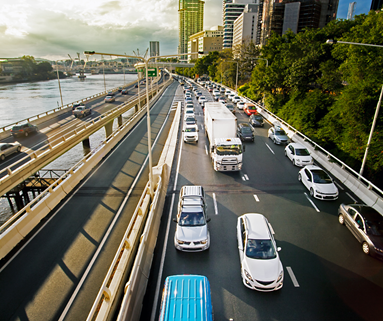 ROAD SAFETY – Measuring the Cost of Congestion Across Travel Modes
NACOE Project Number: R22
Contact email: info@nacoe.com.au
Project Stage of Completion: 100%
It has long been recognised that congestion causes significant economic costs on a city, but there has not been an effort to estimate these costs across travel modes. This project developed a methodology for estimating congestion costs for buses and freight, and undertook feasibility studies based on these modes as well as for bicycles and pedestrians. 
In the first case study, Translink GoCard data was used to estimate bus commuter congestion, where it was found that congestion on an average weekday on Gympie Road was approximately $45,000.  It was noted that passenger waiting times are a significant proportion of the total congestion delay cost of buses. The second case study involved a before and after evaluation of a major urban road project (Bruce Highway ramp metering) to determine their congestion reduction impacts. The case study revealed that although the average daily vehicle kilometres travelled increased by 5%, the cost of congestion was reduced after the installation of ramp metering, from $100,000 per day in 2015 down to $80,000 per day in 2016. 
This unique research was presented at the World Congress on Intelligent Transport Systems in Melbourne in October 2016, where it was selected as the winner of the Distinguished Scientific Papers – Asia Pacific award. The findings were also presented and discussed at a special workshop at the ARRB Conference in November 2016.