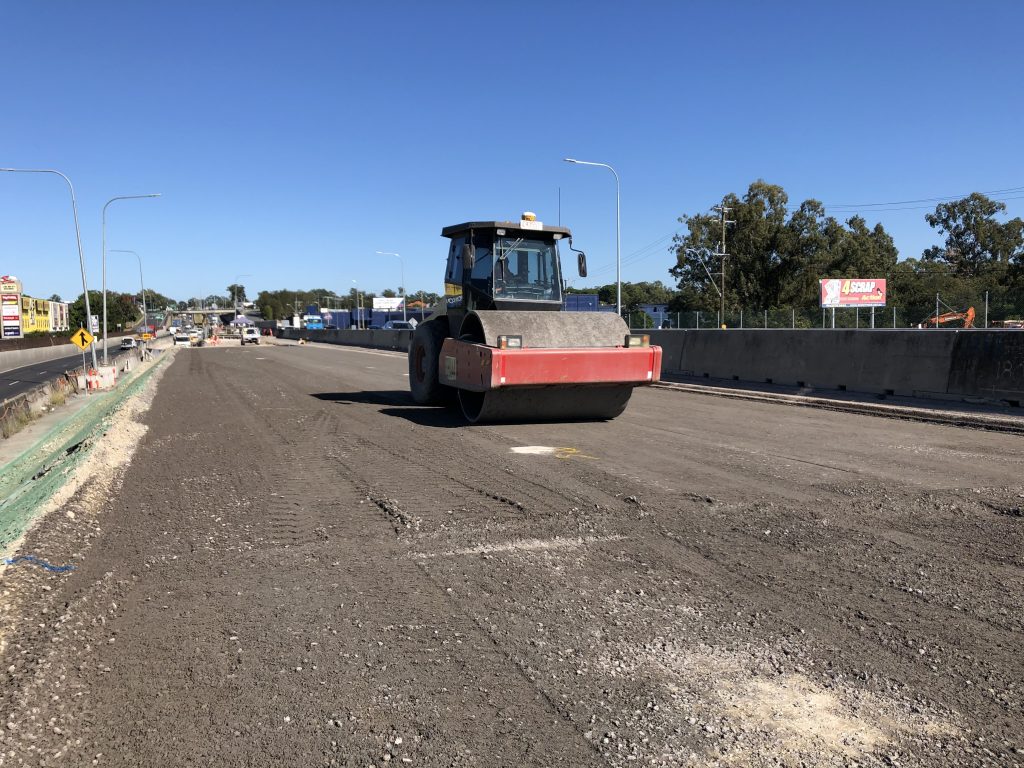 PAVEMENTS – Implementation of Intelligent Compaction Technology for use in Queensland
NACOE Project Number: P105
Contact email: info@nacoe.com.au
Project Stage of Completion: 50%
Over the last decade, Intelligent compaction (IC) technology has gained popularity around the world and has been shown to improve construction quality and productivity. Intelligent compaction (IC) can provide important and immediate roller operating parameters to the operator (in the form of a visual map) to ensure that pavement layers and earthworks are compacted uniformly and in accordance with appropriate standards. IC data can also be uploaded and stored online for archiving and remote-monitoring purposes.
This project commenced in the 2018–19 financial year to facilitate the implementation of IC technology in Queensland. A comprehensive literature review was undertaken during the first year to evaluate the potential benefits of IC technology to TMR.
Year Two focused on the development of a pilot project-specific technical specification for use in demonstration trials. The specification was successfully trialled on the Ipswich Motorway Upgrade Stage 1 (Rocklea to Darra) project. The IC technology was trialled on different materials compacted as part of the project including embankment fill, subgrade, cement modified base, and unbound granular base. It was found that IC technology can readily identify soft areas in a pavement or embankment and can also be used to improve the uniformity of the compacted layers.
The study showed that the Compaction Meter Value (CMV) has varying degrees of correlation against the in situ stiffness (measured by a light weight deflectometer) and conventional density results (measured by a nuclear density gauge). It was also noted that the CMV is sensitive to in situ moisture conditions during construction. It was realised early in the project that there will be significant learning required for the industry to become familiar with IC technology and to incorporate it into construction practices.
Towards the end of this year's project (2020), we delivered an online webinar to disseminate the results from the demonstration trial. The Australian Flexible Pavement Association (AfPA) also delivered a virtual masterclass, providing additional training on the use of the latest IC data management software, Veta 6.0. Finally, the project has funded Veta 6.0 to support the latest GDA2020 system which will soon be the main cadastral grid to be used across different jurisdictions in Australia.
To date, the project has resulted in:
First industry workshop held in Queensland on Intelligent Compaction Data Management (ICDM) 2019, in collaboration with an expert from USA
Project-specific Technical Specification PSTS116 developed
Utilising PSTS116 in the first major roadwork project using IC technology for compaction auditing at Ipswich Motorway Upgrade Project (March and August 2020)
Collaboration with Logan City Council to implement IC technology on local roads
Knowledge transfer activities (webinars)
NEXT STEPS:
Identify MRTS specification that can include IC technology
Promote the use of IC technology for future use in road projects
Collaborate with industry stakeholders to gain market acceptance in Australia
Develop training materials for wider industry audiences
Whole of life cycle assessment into the benefit of using IC