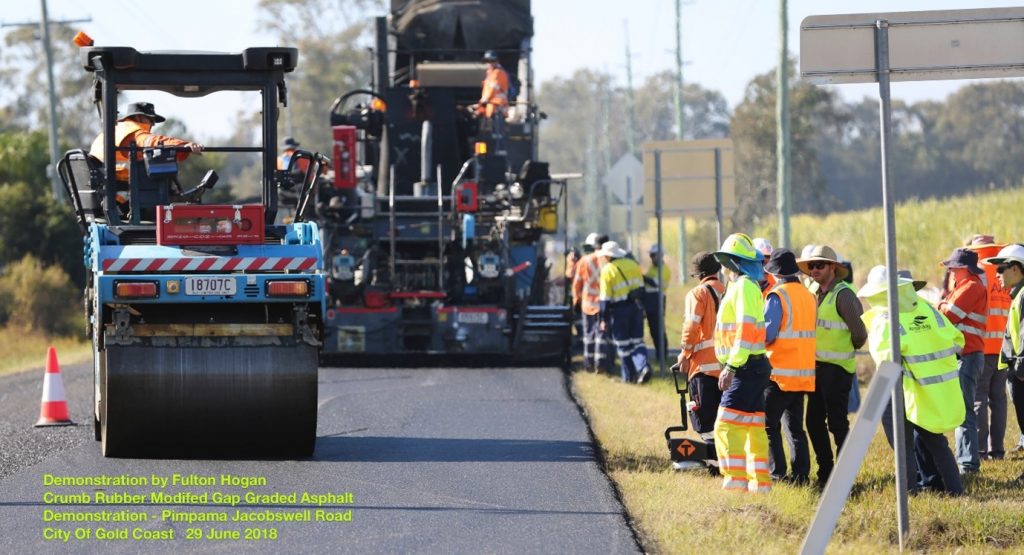 PAVEMENTS – Transferring Crumb Rubber Modified Gap Graded Asphalt Technology to Queensland
NACOE Project Number: P75
Contact email: info@nacoe.com.au
Project Stage of Completion: 50%
International experience has shown that crumb rubber-modified gap graded asphalt can provide improved resistance to crack reflection compared to conventional asphalt mixes. In addition, the use of recycled end-of-life tyres has significant environmental and sustainability benefits. However, there are currently no specifications available for these mixes and Queensland which is a major barrier that prevents road agencies to make use of the benefits offered by this particular type of asphalt. The purpose of this project is aimed at facilitating the implementation of crumb rubber-modified gap graded asphalt mixes in Queensland. The approach/methodology of the project was to start with conducting a literature review of local and international best practices when using crumb rubber modified binders in asphalt mixes. Once this was completed, we engaged with the industry to develop a mix design using local materials. The next step was conducting laboratory testing to characterise the performance of locally manufactured crumb rubber asphalt. Construction trials were then undertaken to demonstrate the crumb rubber modified asphalt can be manufactured and placed using local materials and equipment.
The findings were then documented into a technical report.
To date, the project has resulted in:
The development of a new technical specification for the use of crumb rubber modified binders in open-graded and gap graded asphalt mixes (PSTS112 Crumb Rubber Modified Asphalt)
The construction of a trial that demonstrated crumb rubber asphalt can be successfully manufactured and placed in Queensland using local materials
A technical report that documents the project tasks, findings, and outcomes.
It is envisaged that this project will result in:
The increased use of recycled end-of-life tyres
Improved pavement performance by using a highly crack resistant asphalt on existing pavements
Reduced whole-of-life costs associated with resurfacing existing cracked pavements.
NEXT STEPS:
Further work is planned to benchmark the performance of locally produced crumb rubber modified asphalt and facilitate additional demonstration projects.